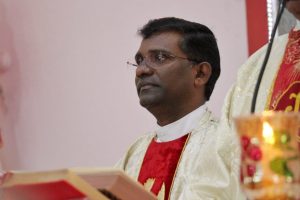 Fr. Selvam Bellarmine, was born on 13th June 1977 and ordained as priest on 22nd April 2007.  He started his services at Our Lady of Fathima, Tambaram in 2007 and continued till 2008. Then he became parish priest at Christ the King Church at Karumbakkam and served there till 2009. Later he was transferred as Parish Priest for Jaya Rakkini Madha Church, Neerpair and was there till 2011. He then left to Bangalore to continue his higher studies till 2013. Fr. Selvam took over as parish priest at St. Stephen Catholic Church, Nanmangalam soon after his studies and served there till 2018. He is now the second parish priest for St. Antony's Church, Sithalapakkam since June 2018.
PREVIOUS PARISH PRIEST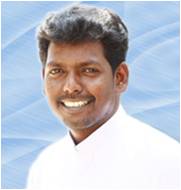 Rev. Fr. George Victor has been appointed as the first parish priest of  St.Antony Church, Sithalapakkam.  Fr. George was born on 2nd August 1980 and become priest on 18th April 2010.  Fr. George Victor has served as assistant parish priest at St. Fathima Church, Tambaram and later on at Chengelpet Diocese. He is known for his simplicity. He is author of many religious books and also has written many songs and released more than five CDs. All the religious songs penned by him are sung during mass. During his tenure at St. Antony's Church, Sithalapakkam he did many noble services, such as renovating Sagaya Madha Church, Ottiyambakkam.
Fr. George was first priest to establish as church at Thalambur for "Mary Untier of Knots", first of its kind in India. He converted a chapel in Perumbakkam to a sub-station in name of "Our Lady of Good Health – Arockia Malai Madha Church". He also renovated our church "St. Anthony's in 2016.  He started many religious movements in our church. He always wished and motivated young people to participate actively in church related activities. He conducted various programmes within the church premises to ensure the parish people are active participants in all religious activities. His noble services at St. Anthony's will be remembered for more years to come.